It's More Than Money  — It's Your Life
The New Money Club for Women
by Candace Bahr and Ginita Wall ,CFP™, CPA, CDS
Co-founders of WIFE.org
Filled with inspiring stories as well as step-by-step expert advice, this book empowers women to take charge of their finances.
Upbeat and conversational, this book takes a complete 360-degree view of women's financial lives. In this book you'll learn more about:
Communicating with your partner about money
Discovering your Money Style-are you a hoarder, avoider, or splurger?
Learning the seven truths about women and money
Taking control of spending and saving (and having fun in the process)
Tailoring your investments to goals such as retirement and education
Coping with divorce or widowhood
And much more
This book has everything you need to change your financial life forever and become a "Money Star." You don't have to know much about money-you just have to want to make big changes in your life, one small step at a time. Read this book, share it with your friends, and you'll want to start a Money Club right away-because amazing things happen in the Money Club!
It's More Than Money — It's Your Life! offers financial guidance for all woman, regardless of their financial experience or life situation.
---

ABCs of Divorce for Women
Carol Ann Wilson, CFP™, CDS
and Ginita Wall ,CFP™, CPA, CDS
Price: $15.00
This book will teach you what you need to know to manage the changes in your life before, during, and after your divorce.  Throughout this process, we emphasize these four attitudes:
Always Be
Careful – Many mistakes in divorce are made by not thinking Carefully about the results of your Choices.
Cognizant – Learning as much as possible about the divorce process will make it easier for you to have realistic goals and expectations.
Centered -The "money crazies" of divorce can make it hard for you to focus on what's really important Try to remain Centered.
Courageous -Women, especially, often have a hard time standing up for themselves and getting what they deserve. Take Control of the divorce process and be Courageous in pursuing what you need and deserve.
By preparing yourself for the realities of divorce, you can save yourself a lot of heartbreak and hassle in the future.
---
Love and Money: 150 Tips for Couples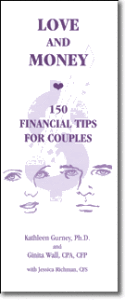 By: Kathleen Gurney, Ph.D & Ginita Wall, CPA™ with Jessica Richman, CFS
Price: $5.00
Helpful tips ways that you, as a couple, can improve your relationship with money.  Areas covered include:
While dating
Living Together
For Newlyweds
Joining Your Financial Lives
Starting a Family
Relationship Skills for Financial Success
Remarriage
---
For more information call  Ginita at (858) 792-0524 or use the contact form.